UNWAVERING
COMMITMENT TO QUALITY
AHT (NORLAN UNITED) & CARRIAGE SDN BHD
A Company under Program Syarikat Bumiputera Berprestasi Tinggi (TERAS)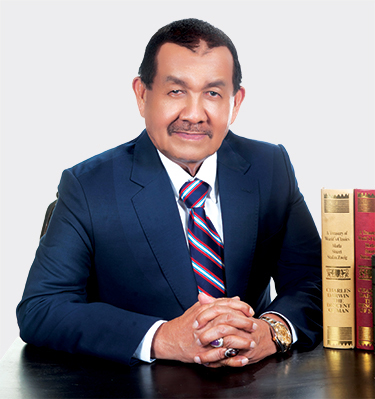 YBhg Tan Sri Dato' Haji Abdullah bin Hj Taib
(Executive Chairman)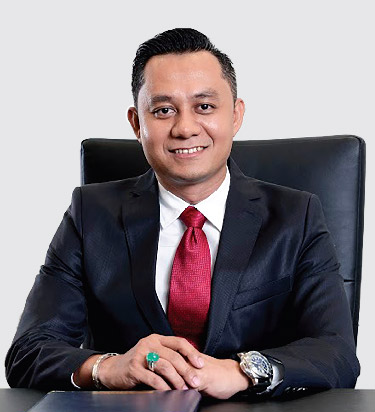 Shahriman bin YBhg Tan Sri Dato' Hj Abdullah
(Director)
AHT (Norlan United) & Carriage Sdn. Bhd. (hereinafter referred to as "Norlan United") is a wholly owned Bumiputera company, and a leading building construction and project management firm for both the government and private sectors in Malaysia since 1982.
Norlan United has its roots in small and medium-sized construction projects involving building and infrastructural works in the state of Terengganu. Over the years, however, under the leadership of founder and chairman YBhg Tan Sri Dato' Haji Abdullah bin Haji Taib, Norlan United has successfully undertaken and completed countless more sophisticated projects requiring fast-tracking and special expertise in locations throughout Malaysia.  
Norlan United has since actively involved in various construction disciplines and engineering supported by a team of experienced engineers and technical specialists with diversified engineering and management background. Our successes in the construction and technical engineering projects are being supported by our backbone of experienced multi-disciplined manpower and specialists which are then backed by our diversified technical, architectural, engineering, business and management team.
Our successful completion of the International Endurance Park in Setiu, Complex Universiti Teknologi MARA in Dungun, Terengganu Equestrian Resort and Complex Istana Bukit Chendering (Istana Syarqiyyah) in Kuala Terengganu, Syariah Court and Army Quarters in Kuala Lumpur are some of the testaments of our ability to complete and deliver our projects to the client's satisfaction. 
For almost four decades, Norlan United has engaged not only in building construction and infrastructure projects, but also ventured into interior design, mechanical and electrical engineering, as well as the oil and gas industry. Our total project value exceeds RM3.0 billion. 
We are now a well-established and fully integrated company with multiple national recognitions, qualifications, and registrations. We are:
Certified to MS ISO 9001:2015 under Provision of Construction of Building, Civil Engineering Works including Project Management and Road Maintenance.
Registered with CIDB under Grade G7 B, for Class CE & ME.
Registered with PKK under Grade G7 (Bumiputera).
Registered with Ministry of Finance, Malaysia.
Registered with PETRONAS with license to supply products/services in multiple categories.
Registered with Suruhanjaya Perkhidmatan Air Negara (SPAN).
Registered with Tenaga Nasional Berhad (TNB) with license to supply products/services.
Leveraging on our strong track records and comprehensive strategies, Norlan United is confident to embark on a journey to reach for higher achievement in every committed industry to be the top established player in the country. We take pride in our reputation as a customer-driven contractor, developer, and service provider. 
We always commit to delivering quality products to our client's satisfaction and continue building on our rich past in the present, with the objective to build the nation of tomorrow. Hence, we are determined to move forward and grow with Malaysia as a major Bumiputera Conglomerate.
VISION
" To be a progressive and world-class diversified conglomerate bringing satisfaction to our client. "
MISSION
To be a leading developer, contractor and service provider through our multi-disciplined group of companies.
To serve our customer diligently in meeting their requirement and delivering value for their investment.
To deliver and provide reliable high quality products and services to our clients through sustainable approaches, creative ideas and innovative solutions.
To establish an efficient, effective and highly qualified pool of talents, expertise, specialists and professionals in order to deliver and propel the conglomerate.
To participate in the nation building process by delivering quality products and services that will be appreciated by the present and future generations.
OUR AWARDS & ACHIEVEMENTS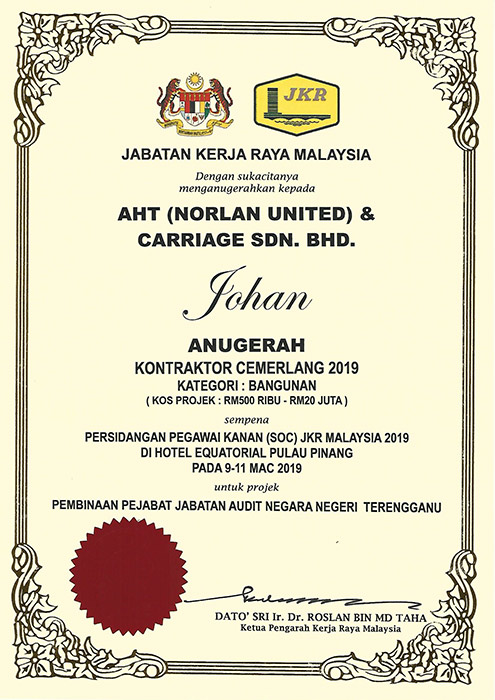 Excellent Contractor Award 2019
As the company strives to move forward towards achieving perfection, our efforts and prayers have not gone unnoticed. Recently, Jabatan Kerja Raya Malaysia (JKR) has awarded AHT (Norlan United) & Carriage Sdn Bhd 'Excellent Contractor Award for 2019' in recognition for the best government complex building category for project value less than RM20 million. This recognition contributed and demonstrated excellence in enhancing image, performance and improvement of the construction industry.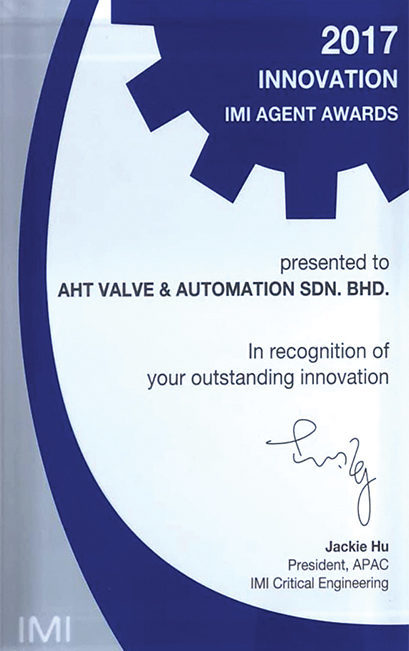 Innovation Award 2017
AHT Valve & Automation Sdn Bhd received an innovation award in 2017 from IMI Critical Engineering under the category of Valve Upgrade for the success of acquisition and completion of Alexis II Petronas Gas Berhad Santong Terengganu control valve spare parts replacement and upgrading project. Our team was invited to IMI CCI Japan to claim this prestigious award.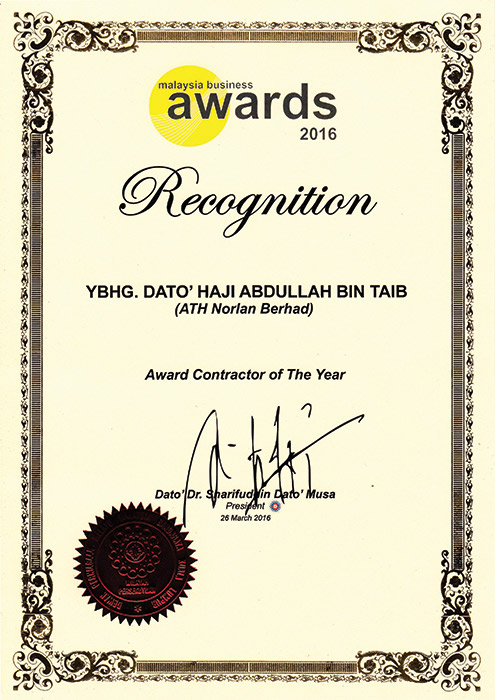 The Best Contractor Award 2015/2016
The Malay Chamber of Commerce Malaysia Kuala Lumpur Commerce (DPMMKL) has awarded AHT (Norlan United) & Carriage Sdn Bhd 'The Best Contractor of the Year for 2015/2016' in recognition for the commitment and innovation shown by the Company which contributed significantly to the economic development of the country. This recognition is the result of commitment by Norlan United in developing the inspirational design and features of the housing development. We will remain competitive not only locally but also globally.
We are committed to continuously striving to meet client's requirements with respect to project completion time, specifications (workmanship quality) and continually improve the effectiveness of our quality management system.